Another beautiful day here in Hawaii.  I decided to go for a short hike in the mountains for exercise.  If you look closely you can see Waikiki far off in the distance.  It is good to see tourists visiting Hawaii again.  And I have seen tourists from Japan too.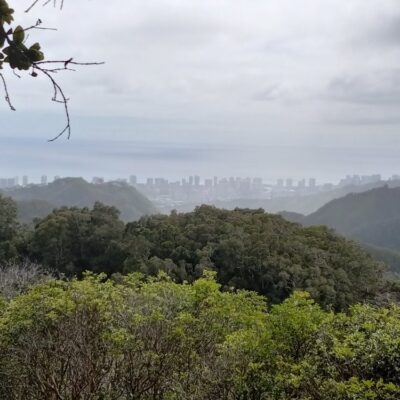 On the way down, a beautiful rainbow appeared.  It's always nice to breathe in the clean air and enjoy the quiet solitude of being alone on a mountain.  This rainbow was a bonus to capture in a photo.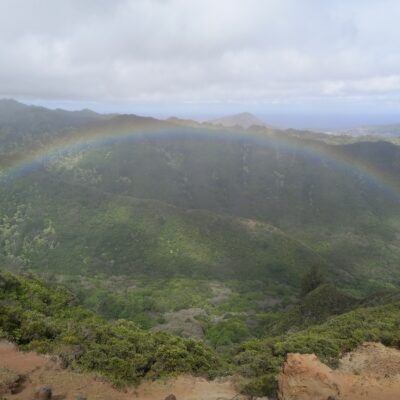 And just a short drive from the mountain is Kahala Mall.  It was nice to see some tourists from Japan walking in the mall.  At one entrance to the mall is California Pizza Kitchen also known as CPK.
CPK is a restaurant chain that is very popular here in Hawaii.  The CPK in Kahala Mall is the busiest of all the restaurants in their chain.  One of my favorite places for lunch or dinner.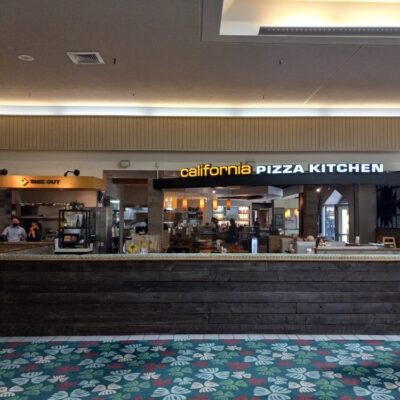 Walking through the mall I pass by several stores.  Paperie is one of the specialty stores with a lot of items for writing stationery, tablets, pens, and in this photo coffee mugs.  But also I saw here some products of the
" Wave " by Katsushika Hokusai.  I even have a fabric print of the Wave in my house on one wall.
Walking further in I come across K. Minamoto, a Japanese sweets store.  All of their products are elegantly arranged in their showcases.  The Kahala area has a fair amount of Japanese citizens living here.  So this kiosk is a good place to get omiyage ( gifts to offer when visiting someone.)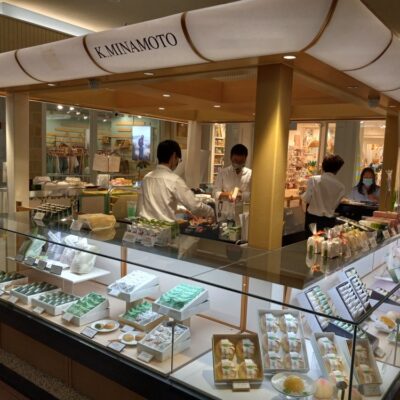 A little further in is SoHa Living.  SoHa means South of Hawaii.  They have a wide variety of products in their store to decorate homes.  It is also popular with tourists.
Lots of items with a tropical flair.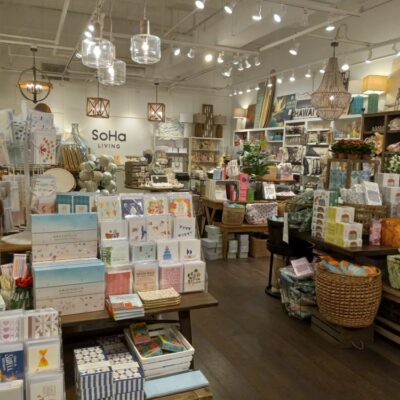 Here's one of my favorite shops – The Cookie Corner.  Their cookies are so crispy and fresh.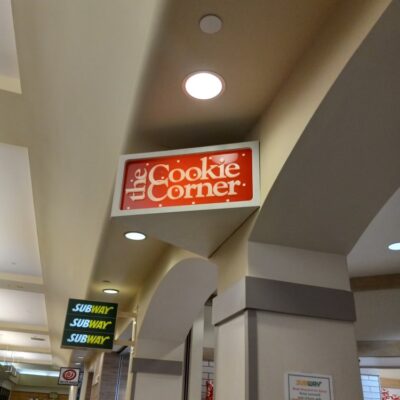 My favorite is the white chocolate and macadamia nut cookies.  And you can't eat just one.  The red and white cups in this showcase had smaller bite size cookies of different flavors.  So good.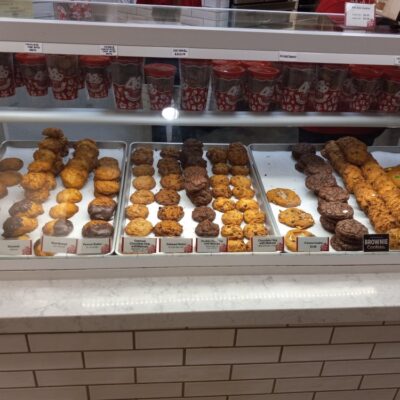 And gift packs for travel.  If you can see the " Lilikoi" pack, this is a Hawaiian word for passion fruit.  This is a very popular flavor, whether its in cookies, jams, jellies, butter, and fruit drinks.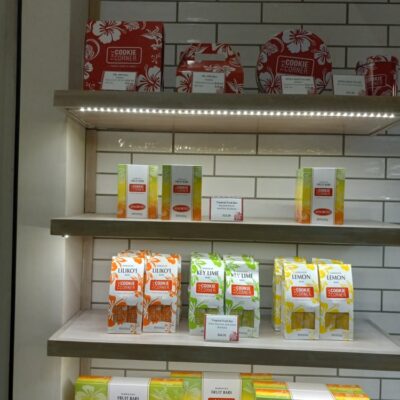 One of my favorite take out food places – Panda Express.  Chinese food takeout without the use of MSG.  At this moment of the photo, its before the dinner rush, so not busy at this time of day.  But in a couple of hours it will be packed with customers.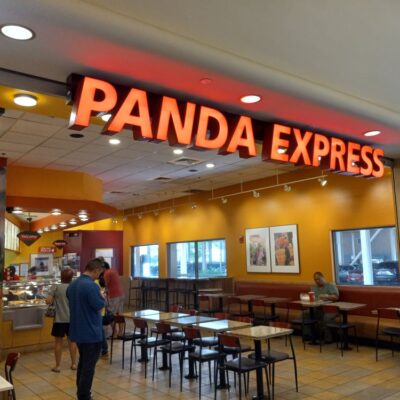 A favorite for many people – Starbucks Coffee.  Right in the center of the mall.  There's a small water fountain with lots of greenery around it.  And seating to enjoy sweets and coffee.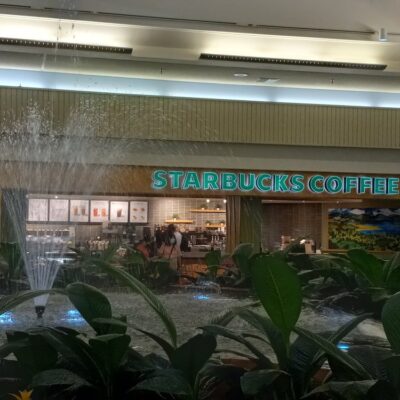 Sanrio Surprises, a smaller shop but very popular with little children.  Another Japanese store that caters to some of the local Japanese population here.  Of course the local children love this store.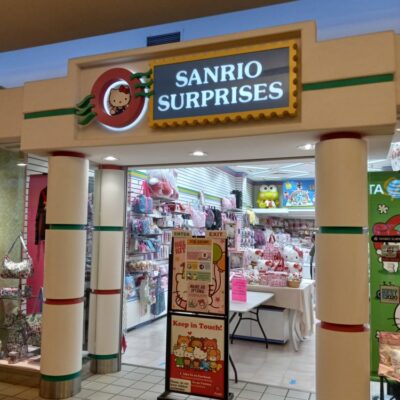 The Refinery is a very nicely decorated store.  It is located across from Kurukuru Sushi and the movie theaters.  A good location for shoppers who finished eating or watching a movie.
A wide variety of products with eye catching displays.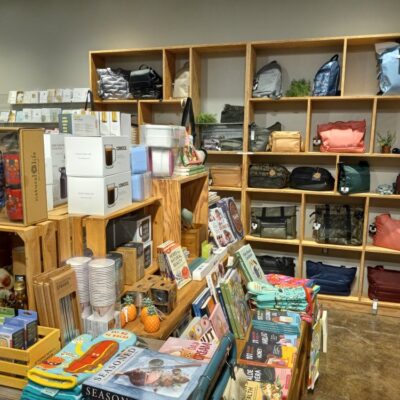 Just outside of Waikiki is a restaurant called Sidestreet Inn.  It's a combination of restaurant and sportsbar.  Family style dining which is nice, where dishes are placed in the center of the table and each person can choose what they would like to eat.  It's a very busy place so reservations are best, but many times you have to go early.  Below is one of the local favorites – Kalbi which is beef shortribs marinated in Korean barbecue sauce and a side of kim chee.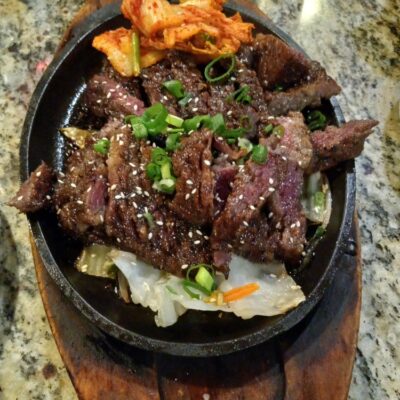 And three more popular dishes, char shufried rice, garlic chicken and crispy pork chops.  With these three and the kalbi dish above, these 4 dishes are a popular combination meal that was suggested by many diners. So now it is a set meal.  A must visit restaurant if you come to Hawaii.
Ok, I will continue shortly.  For now, take care and Aloha!